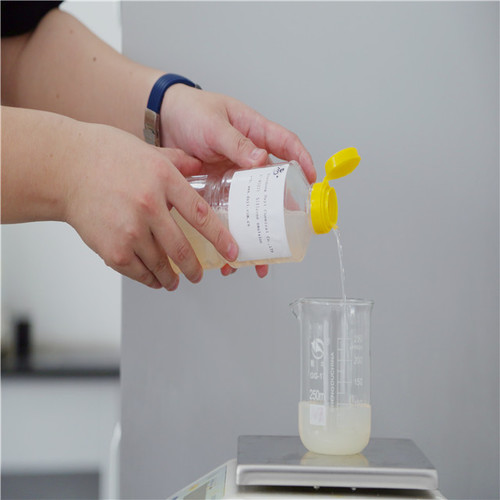 DY-110 Silicone defoamer
Product Description
DY-110 Antifoam Compound
DESCRIPTION
DY-110 Antifoam Compound is a high effective polysiloxane foam control agent made from imported raw materials. It can be used in concentrations as low as 50ppm of active content. This antifoam compound is specifically manufactured for industrial applications.
FEATURES
Easy to use
High efficiency
Suitable over a wide range of PH
Effective in low concentrations
TYPICAL PROPERTIES
| | |
| --- | --- |
| Appearance | White emulsion |
| Active Material Content (%) | 10±2 |
| PH | 6~8 |
APPLICATIONS
Effective in a variety of water-based industrial processes and products. Typical uses include:
1. Textiles and dyeing.
2. Gas processing
3. Printing and ink
4. Resin and latex compound
5. Waste water treatment
6. Distillation systems.
7. Other potential applications.
HOW TO USE
DY-110 Antifoam Compound is effective in very low concentrations. 50 parts antifoam per million parts foamer are sufficient to eliminate most foams.
To produce optimal foam control, it is necessary to have the antifoam completely dispersed in the foaming medium. Follow these steps to achieve complete dispersion:
1. Agitate the product prior to use.
2. Predilute with 3 to 10 parts of a suitable low-viscosity diluents to aid dispersion. Add the antifoam to the diluent with slow mixing. Prediluted material should be used immediately. If the system can provide adequate agitation to disperse the antifoam, the antifoam emulsion may be added directly without predilution being necessary.
3. Add to the antifoam prior to the point where foaming occurs within the system, if possible.
PRODUCT SAFETY INFORMATION
Disperse DY-110 completely even in the system to ensure best defoaming performance.
STORAGE
1. Store in original, unopened containers at room temperature.
2. Shelf-life is 6 months from the date of production.
PACKAGING
This product is available in plastic or steel pail of 25 and 50kg and drum of 200kg.
SHIPPING
Ship the product as non-hazardous good.
LIMITATIONS
The information contained herein is in accordance with the present state of our knowledge and is offered in good faith and is believed to be accurate. However, because conditions and methods of use of our products are beyond our control, this information should not be used in substitution for customer's tests to ensure that our products are safe, effective, and fully satisfactory for the intended end use. The information provided by us does not absolve the user from the obligation of investigating the possibility of infringement of any patent.
Our sole warranty is that our products will meet the sales specifications in effect at the time of shipment.
DISCLAIMER
TO THE FULLEST EXTENT PERMITTED BY APPLICABLE LAW, DAYI SPECIFICALLY DISCLAIMS ANY OTHER EXPRESS OR IMPLIED WARRANTY OF FITNESS OR SUITABILITY FOR A PARTICULAR PURPOSE OF THE PRODUCT. DAYI DISCLAIMS LIABILITY FOR ANY INCIDENTAL OR CONSEQUENTIAL DAMAGES.
Contact Us
NO.1, DANYA WEST ROAD Laiyang Shandong China 86-535-7360699
Phone :86-535-7360699