H212 Hydrogen silicone oil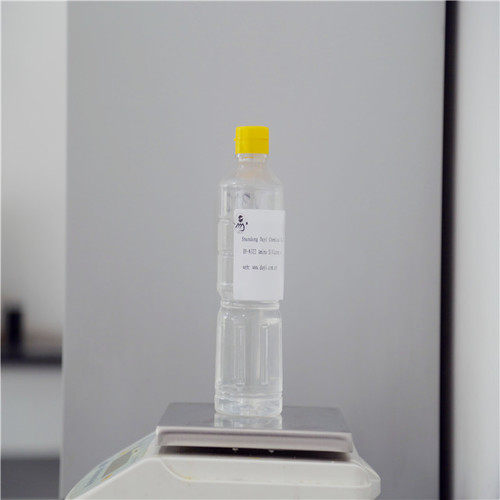 H212 Hydrogen silicone oil
Product Description
DY- H212 Methyl hydrogen silicone oil

Features
DY-H212 The molecular formula of hydrogen silicone oil is (CH3)3SiO[(CH3)(H)SiO]nSi(CH3)3. Because it has brisk -H key, so it is not only has the function of dimethyl silicone oil, but also has excellence water resistance performance and film properties.
Specification
DY-H212
Appearance light yellow or colorless liquid
Refractive index(25): 1.390-1.410
Viscosity(25): 20-150cp
Specific gravity(25): 0.98-1.10
Hydrogen content: 0.1-0.77%
PH Value: 6-7
Stability: -----
Effective content: 100%

APPLICATION
The products has excellence anti-water effect,which will cross link to film with the help of metal-salt catalyst in low temperature,then it will be a anti-water film in all the surface of the material, e.g fabricglassRockwallceramicspaper,leathercosmeticmetalcementmarble and so on....

USAGE AND DOSAGE
Generally speaking, for surface treatment, the content of additive amount is 1%, for cross-linking agent is 5%, others should according to different use.

Attention

This products should be package in sealed container and forbidden to contact with alkali ,acid and water.

Package
Non dangerous products, in 200kg metal drums or IBC package.
Contact Us
NO.1, DANYA WEST ROAD Laiyang Shandong China 86-535-7360699
Phone :+8615315168119