DY-OH5012 Leather Smoothing Agent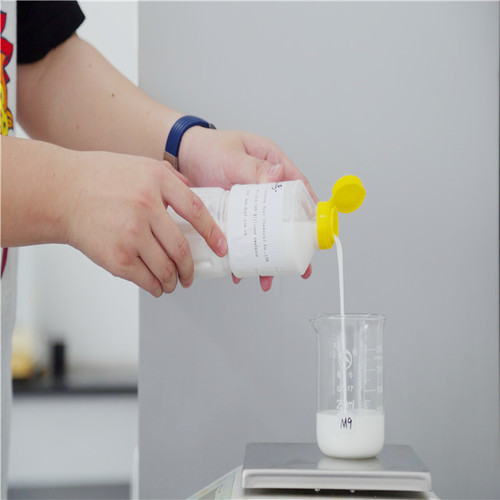 DY-OH5012 Leather Smoothing Agent
Product Description
DY-OH5012 Leather Smoothing Agent
Description
DY-OH5012 is a polysiloxane emulsion containing active functional groups.
Features
Excellent softness and slip
Imparts smooth, silky touch to treated leather
Water repellency
Non-tacky
Keep leather soft and supple, flexible
Modify look and feel
Wet rub and abrasion resistance
Adds body and hand feel to the treated leather
Good durability and breathability
Typical Properties
| | |
| --- | --- |
| Appearance | White homogeneous emulsion |
| Ionic Type | Anionic |
| Stability(3000r/min) | 15 min no-separation |
| Solid Content(%) | 15 |
Application
Be applied with brighteners or alone on leather coating.
Other potential applications.
How to Use

Recommended formulation:

Name/Model

Dosage

Smoother

DY-OH5012

6~8

Brightener

Nitrocellulose brightener
protein brightener)

100~150

Water

400
Remarks:
Use methanal or acetic acid in coating and curing if applied with protein brightener.
DY-OH5012 is anionic emulsion and must be compatible with the ingredients in the formulation.
Application processes:
Mixing
DY-OH5012 Leather Smoothing Agent should be mixed with the brightener and water in above ratio completely.
Coating and curing
The final mixture can be applied to leather by conventional techniques such as spraying gun or spraying jet for two times. After application, the coating should be air dried at ambient conditions for 2~4 hours or dried briefly at 6010 for 30 minute to obtain the final smooth and gloss finishing. The advisable use level is 35~70g/m of the mixture (the DY-OH5012 Leather Smoothing Agent level is 1.5~3g/ m).
If user does not require high gloss, DY-OH5012 Leather Smoothing Agent can be used alone for smoothing treatment of the leather. The advisable use level of the DY-OH5012 Leather Smoothing Agent is 1.5~3g/ m. Processes are same as above with only one spraying needed.
Product Safety Information
Avoid contact with salt or other impurities.
As DY-OH5012 is anionic emulsion, compatibility with other ingredients in the formulation must be ensured in case separation and oil floating.
Storage
Store in original, unopened containers at room temperature.
Keep in a well-ventilated place.
Packaging
This product is supplied in plastic pails of 25 and 50 kg and steel or plastic drums of 200kg.
Shipping
Ship DY-OH5012 as non-dangerous good
Limitations
The information contained herein is in accordance with the present state of our knowledge and is offered in good faith and is believed to be accurate. However, because conditions and methods of use of our products are beyond our control, this information should not be used in substitution for customers tests to ensure that our products are safe, effective, and fully satisfactory for the intended end use. The information provided by us does not absolve the user from the obligation of investigating the possibility of infringement of any patent.
Our sole warranty is that our products will meet the sales specifications in effect at the time of shipment.
DISCLAIMER
TO THE FULLEST EXTENT PERMITTED BY APPLICABLE LAW, DAYI SPECIFICALLY DISCLAIMS ANY OTHER EXPRESS OR IMPLIED WARRANTY OF FITNESS OR SUITABILITY FOR A PARTICULAR PURPOSE OF THE PRODUCT. DAYI DISCLAIMS LIABILITY FOR ANY INCIDENTAL OR CONSEQUENTIAL DAMAGES.
Contact Us
NO.1, DANYA WEST ROAD Laiyang Shandong China 86-535-7360699
Phone :+8615315168119