DY-201 Dimethicone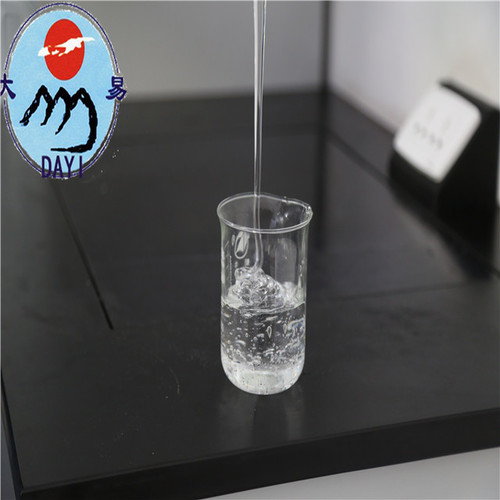 DY-201 Dimethicone
Product Description
DY-201 Silicone Fluid (cosmetic grade version)
Polydimethylsiloxane
PRODUCT DESCRIPTION
Specially-designed for personal care applications, DY-201 Silicone Fluid is processed and obtained in superior clean space by adopting advanced technology, employing specific machines, and using selected good quality raw materials.
FEATURES
Non-oily feel
Chemically inert
Non-toxic; Odorless; Non-irritating; Non-allergic
Provides comfortable water-repellent, non-occlusive film
Imparts a soft, smooth, and silky feel on the skin
Sunscreens with non-tacky, long-lasting and comfortable wear benefits, blurs and minimizes the appearance of fine lines and wrinkles
Dust-proof and anti-static
Provides excellent emolliency and moisturization
Offers skin treatment.
Enables strong and long-lasting impression of fragrance, and enhances fragrance retention properties.
Be compatible with other ingredients to improve the dispersion greatly
TYPICAL PROPERTIES
Viscosity (cp/25)

10

20

50

100

200

300

500

1000

Appearance

Clear, colorless liquid

Specific Gravity(D25/25)

0.934

0.949

0.960

0.960

0.970

0.970

0.971

0.971

Flash Point()

160

230

270

300

300

300

300

300

Freezing Point()

-80

-70

-60

-55

-55

-55

-50

-50

Reflective Index (N25/25)

1.399

1.400

1.401

1.402

1.403

1.403

1.403

1.403

Surface tension(dyne/cm)

20.1

20.6

20.8

20.9

21.0

21.1

21.1

21.2
APPLICATIONS
1. Personal care products such as skin and hand creams, lotions, cleansers, sunscreens, shaving cream, anhydrous detergent, antiperspirants, deodorants, body wash, soap, hair-conditioners, shampoo, and other cosmetics.
2. Be release agent, brightener, dusting agent in products such as rubber, plastic, latex, and PU.
3. Industrial applications such as lubricants, hydraulic spring fluid, cutting fluid, buffer oil, electrical insulating fluids, high and low temperature brake oil, damping oil, and release agents.
4. Applications in fabrics as softeners, water repellents, and handle modifiers.
5. Applications in sewing threads and synthetic fabric spinneret as lubricants.
6. Garment lining aids.
7. Compatible with other formulations to be applied in leathers as softeners, water repellents, hand modifiers, antifoams, brighteners, etc.
8. Be antifoams, lubricants, weatherability coatings in health care, food and beverage, coating, building and construction, and chemical industries.
9. Other potential applications, or blended with other materials to copolymerize into new materials.
HOW TO USE
Use accordingly with the use level from several PPM to 100%.
PRODUCT SAFETY INFORMATION
DY-201 Silicone Fluid (cosmetic grade) is sensitive to contamination by acids, bases, and Louis acids which may cause degradation and volatilization, especially when temperatures elevated. Low concentration of acids or bases contamination or exposed to high temperatures under long-term may cause an increase in fluid viscosity or even crosslinking.
STORAGE
Store at normal temperature in original, unopened containers, avoid contact with acids and bases.
PACKAGING
The product is supplied 200kg and IBC totes.
SHIPPING
Ship the product as non-dangerous goods.
LIMITATIONS
The information contained herein is in accordance with the present state of our knowledge and is offered in good faith and is believed to be accurate. However, because conditions and methods of use of our products are beyond our control, this information should not be used in substitution for customers tests to ensure that our products are safe, effective, and fully satisfactory for the intended end use. The information provided by us does not absolve the user from the obligation of investigating the possibility of infringement of any patent.
Our sole warranty is that our products will meet the sales specifications in effect at the time of shipment.
DISCLAIMER
TO THE FULLEST EXTENT PERMITTED BY APPLICABLE LAW, DAYI SPECIFICALLY DISCLAIMS ANY OTHER EXPRESS OR IMPLIED WARRANTY OF FITNESS OR SUITABILITY FOR A PARTICULAR PURPOSE OF THE PRODUCT. DAYI DISCLAIMS LIABILITY FOR ANY INCIDENTAL OR CONSEQUENTIAL DAMAGES.
Contact Us
NO.1, DANYA WEST ROAD Laiyang Shandong China 86-535-7360699
Phone :+8615315168119